Advocacy in Action!
On May 8th, the San Mateo chapter of Parent Voices attended the annual Stand for Children's Day in Sacramento.  Parents, children and community advocates joined on the trip to advocate for the child care needs of California.  Along with other chapters throughout the state, we rallied amongst 700+ advocates which included children of all ages, to urge our representatives in Sacramento to put the childcare and family stability issues on the forefront of their legislative agendas.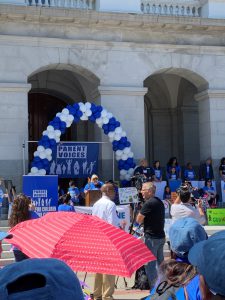 Pictured above, Lucy, a parent leader in San Mateo County's Parent Voices, is sharing her experience as a single mother who had to wait for childcare in order to get a job.  Lucy encouraged legislators to keep investing in the early childhood education field so that low-income families can get financial support and so that children can attend daycare and schools that have good quality.
While we were at the Capitol, we were able to meet with the aides of legislators who represent San Mateo County.  We met with representatives from Senator Jerry Hill, Assemblyman Berman and Assemblyman Mullin's offices and were able to share with them what bills we hope they support, the actual experiences of parents' seeking affordable and quality childcare and to thank them for their work in championing child care in their work.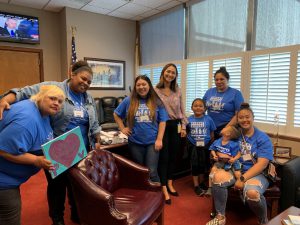 (We met with an aide from Senator Jerry Hill's office.)
The theme of this year's Stand for Children's Day was the Olympics and San Mateo has the best champions in our parent and community advocates and representatives!