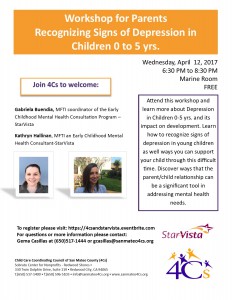 Join us in learning more about Depression in Children 0-5 and its impact on development. Learn how to recognize signs of depression in young children as well as ways you can support your child through this difficult time.  Discover ways that the parent/child relationship can be a significant tool in addressing mental health needs.
Gabriela Buendia, MFTI is coordinator of the Early Childhood Mental Health Consultation Program at Starvista. She serves preschool children, families as well as preschool staff throughout San Mateo County in supporting mental health needs, understanding child behavior and helping build healthy relationships. She has over 10 years' experience working with young children and families.
Kathryn Hallinan, MFTI is an Early Childhood Mental Health Consultant, serving children, families  and teachers throughout San Mateo County in various settings preschool settings. Kathryn has trained at the Infant Parent Psychotherapy program in therapeutic shadowing and parent child play therapy and has worked for many years with young children and families.