Cuando:
abril 26, 2023 a las 6:30 pm – 8:00 pm
2023-04-26T18:30:00-07:00
2023-04-26T20:00:00-07:00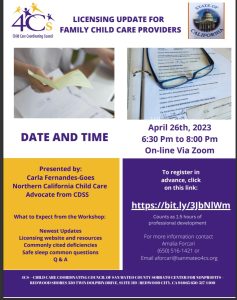 Presented by: Carla Fernandes-Goes Northern California Child Care Advocate from CDSS.
What to Expect from the Workshop: Newest Updates, Licensing website and resources, Commonly cited deficiencies, Safe sleep common questions, Q & A.
Registration link: https://bit.ly/3JbNlWm
To register or for assistance, contact Amalia Forcari at (650) 517-1421 or aforcari@sanmateo4cs.org.