Looking at Families Through a Different Lens
A Training for Child Care Providers:
Bringing the Protective Factors Framework to Life in Your Work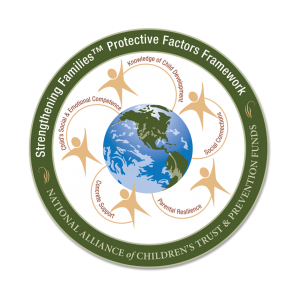 Wednesdays, April 15,22,29 & May 6,13 & 20, 2015
Keep families strong and children safe form abuse and neglect!
Join us FOR A 6 WEEK SESSION to learn more about this national and international initiative that aims to develop and enhance five specific characteristics (called the protective factors) for the purposes of strengthening families.
* Certificate available upon completion
Strengthening Families is a framework developed by the Center for the Study of Social Policy (CSSP) over the last decade to prevent child abuse and neglect. This approach helps child welfare systems, early education and other programs work with parents to build the following protective factors:
Parental resilience
Social connections
Concrete support in times of need
Knowledge of parenting and child development
Social and emotional competence of children
Protective factors are the strengths and resources that families can draw on when life gets difficult. Taking those good characteristics and building on them is a proven way to strengthen the entire family and thus decrease the likelihood of maltreatment. Each of the protective factors is essential, but most important is what they do together to create strength and stability in families.